Sales assistant Kirsti Pyöriäinen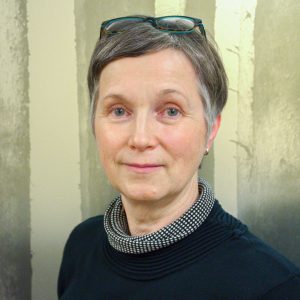 Kirsti Pyöriäinen works as a sales assistant for Scanpole Oy in Joensuu. In her work she deals with exports and selling wooden poles to the domestic market. For instance, she prepares quotes, processes orders, plans deliveries and takes care of invoicing.
"I'm also in charge of duties related to export deals. We export directly to Central Europe and the Nordic countries, whereas more extensive deliveries to North Africa and countries in the Middle East take place through our sales office, Finntrepo Oy based in Helsinki," says Pyöriäinen.
How did Pyöriäinen end up working in international sales?
Hailing from Tohmajärvi in eastern Finland, Kirsti Pyöriäinen finished upper secondary school in 1981. Immediately after her matriculation examination she left for Helsinki to work at the Motor Vehicle Registration Centre for the summer, before leaving for southern Germany for an au pair job. Pyöriäinen had completed the basic syllabus in German at upper secondary school, so she knew the basics of the language. At first it was hard to understand the local dialect, though. She took care of the nine-year-old son of a Finnish-German family for six months.
After finishing her au pair job, she returned home to Tohmajärvi. "I didn't really know what to study, so I applied for a job. Although at that time you didn't really need to apply for a job, because in a small place like Tohmajärvi you were almost offered them," says Pyöriäinen.
For the next two years she worked at Tohmajärvi municipal office. Encouraged by her friends, she applied to a business school. After graduation from there, doors opened for her at Partek's brick factory office in Tohmajärvi.
At first her duties included general office work, payroll calculation and reporting, but then she was transferred to sales duties. All in all, Pyöriäinen spent seven years at the factory until it was closed in 1993, in the aftermath of the recession.
"I thought it wouldn't be a bad idea to stay at home because the children were still small, just three and four years old. It was nice to spend time with them without the rush: be outdoors, relax, and just enjoy it all," she remembers.
However, she had only been at home with the children for a short while before she got a call and was invited to work for SKF-Tohmac to deal with import duties. She was substituting for someone on maternity leave, but was transferred to sales duties after that.
Pyöriäinen's work with import duties involved international business activities that were increasingly attracting her. She applied to Markkinointi-instituutti (Institute of Marketing) to study foreign trade and Russian for business alongside her work.
A job with Iivari Mononen
"This position at Iivari Mononen happened to be open and as the children were bigger, I thought it wouldn't be necessary to work in Tohmajärvi anymore, so why not give it a try," Pyöriäinen says, describing the time she applied for her current job in 1999.
She sent an application, attended a job interview and got the job.
Although Iivari Mononen Group has grown over the years and divided into several subsidiaries, the changes have not had a major effect on Pyöriäinen's work. "The work is still the same, although it has been made easier by information technology," she says, and continues to explain how communication in particular has changed, as customer contacts take place through email instead of on the phone these days.
"You have had to learn many new things at work over the years, but as things come little by little, they do not feel stressful or challenging. There is always someone you can ask or help is always available here. My supervisor has been a very important pillar of support to me in my work," she continues.
"We have a great team here," says Pyöriäinen in earnest, when asked about the best thing in her work. "I have enjoyed my work because I can do it independently. Naturally you need to observe the instructions given."
Physical exercise counterbalances sales assistant Kirsti Pyöriäinen's work. She likes to ski in winter, and enjoys Nordic walking and mountain biking on the forest paths when there is no snow. Her relationship with nature is important for her.
At weekends she's happy to mind her four grandchildren.
When it comes to future plans, Pyöriäinen mentions health: "At this time of life, when you are approaching your 60th birthday, you start to think about remaining healthy and active, and being able to work until it's time to retire."
Back to news