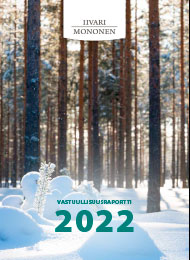 Iivari Mononen Group's Annual Report 2022 and Sustainability Report 2022 have been published.
For the Iivari Mononen Group, 2022 was a reasonable year despite the challenging circumstances. Further information about the year 2022 can in Annual report:
https://www.iivarimononen.fi/wp-content/uploads/sites/5/2023/06/Iivarimononen_vuosikertomus-2022_EN.pdf
In our Sustainability Report we go deeper in our sustainability actions and climate impacts.
Sustainability is our primary value when making decisions because we want to leave a better world for future generations. Sustainability ensures a secure future for everyone, sums up Ari Mononen, the CEO of the Iivari Mononen Group
Sustainability Report can be found from: https://www.iivarimononen.fi/wp-content/uploads/sites/5/2023/06/Iivarimononen_vastuullisuusraportti_2022_en.pdf
Back to news
Kategoria: